RTGUI: Real-Time Interactive Windows Software for Astronomical Observers
Ver. 12 (August 3, 2018): Changes required for Asteroid/Comet position downloads. Minor bug fixes.
User Interface Enhanced for Use on Windows Tablet PCs. see What's new.
Easily Download Selected Comet and Asteroid Positions Via the Internet.
Quickly find Planets, Messier Objects, Caldwell Objects, NGC/IC Objects, Named Stars, Carbon Stars, Quasars, and > 2,500 Double Stars, by Constellation, Altitude, Magnitude, etc..
Fully-Updated NGC and IC data - errors in standard catalogs fixed.
RTGUI runs on Windows PCs or Tablets - Can Call Skychart. Very convenient to take out in the field!
Read the FAQ - or - Find Out What's new -
Visit the RTGUI Facebook Page
Read or Join the RTGUI Group on "groups.io" . (Original RTGUI Yahoo Group is now discontinued.)
Astro Adventure Weekly's Youtube Video explaining how to use RTGUI.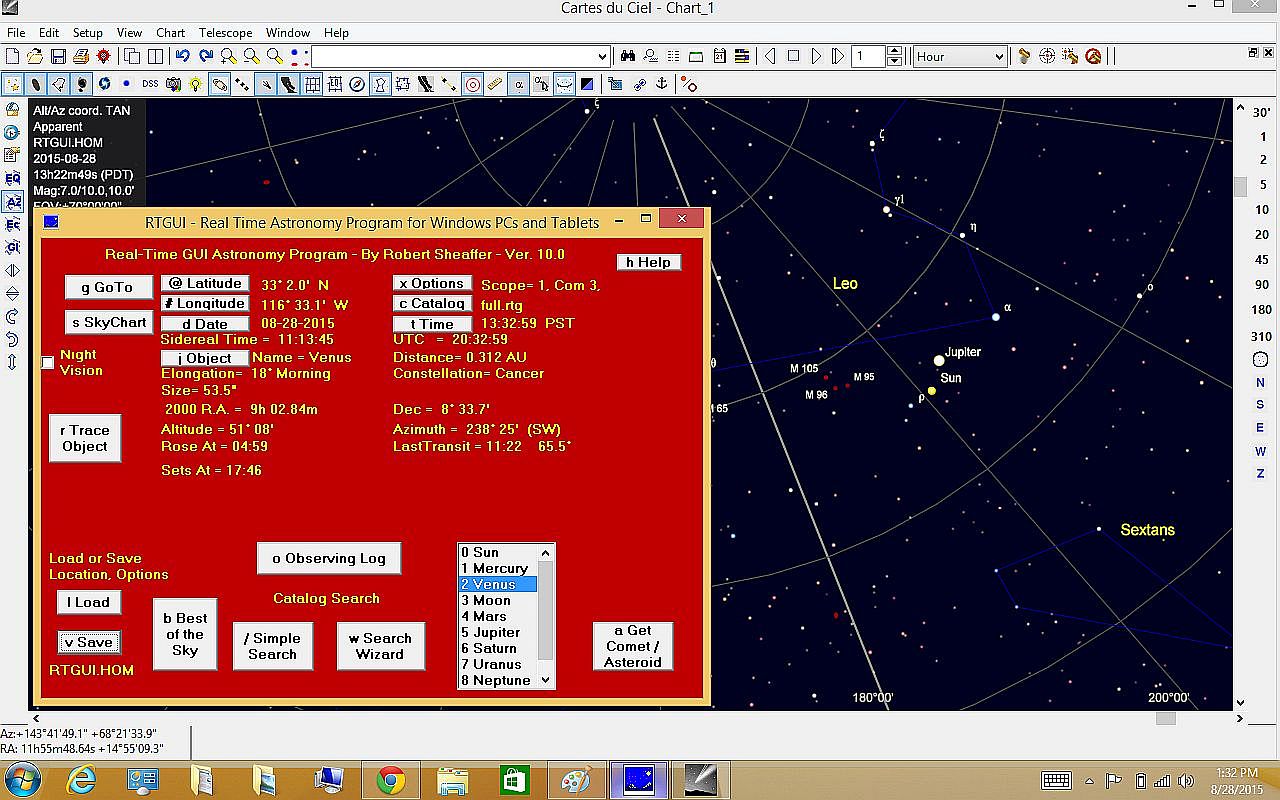 RTGUI running on a Windows 8.1 Tablet, with Skychart. It runs on any PC or Tablet on any standard version of Windows (not "Windows RT" or "Windows CE").

"it ROCKS! It's simple, small, and interfaces to Cartes du Ciel. What more can you ask for?"
- Astronomy author Rod Mollise. Read his review of RTGUI (Acrobat PDF reader is required).
Copyright (c) 2003-2019 by Robert Sheaffer
Free Windows Program - Controls Most "Goto" Telescopes
Press a button for "Goto", or for an 'Instant Skychart' of the selected object!

Download Self-Extracting Archive Program for RTGUI, Version 12 (download size is only about 710k).

If updating to this new version of RTGUI+S from an older one, it is not necessary to unpack the new home location file RTGUI.HOM, saving you the trouble of re-entering your latitude, longitude, and telescope data.



Download RTGUI, Version 12 as a ZIP archive.

(Windows Defender or your Browser may warn that the downloaded RTGUI file might be "dangerous," simply because they do not know what it is. Just ignore this warning, and install it anyway. If you have any concerns, you can download RTGUI Ver. 12 as a ZIP file, and virus check the archive. Over 35,000 people have visited this page since 2005, and no legitimate security issues have ever arisen.)
Read the FAQ - or - Read the program documentation
RTGUI works well with Mike Swanson's Nexstar Control Pad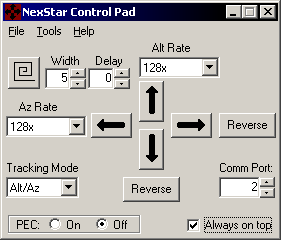 ---
Auxiliary Catalogs:(unzip catalogs into rtgui directory)
Download Messier Marathon Catalog (3k download, 11k unzipped. 110 entries)

. Once a year, in mid to late March, is it possible for mid-northern observers to see all 110 Messier objects in a single night's marathon observing session. This catalog contains all of the Messier objects, in the order that you need to observe them (whatever sets the soonest is "next"!). There is also a separate catalog for southern observers, with the visible M-objects ordered for their search. Just search for "M", and keep hitting "next"! (It's probably also a good idea to print out the list, for your location & time.)
Download Washington Double Star Catalog 1.8 Meg Download, 8.4 Meg unzipped. Revised Jan. 31, 2006 for compatibility with new Search Wizard. Includes constellation names for every object.

Complete WDS 2001 catalog, 84,468 entries. Contains virtually every visual double star known. Don't waste those moonlit nights - observe thousands of double stars! In addition to the Constellation Names, I have cross-indexed the WDS with the HR and PPM catalogs, picking up Bayer (Gam Vir) and Flamsteed (61 Cyg) designations, as well as SAO numbers, where available. (Entries in the original WDS catalog contain only the WDS designation, and the DM numbers, so it's hardly user-friendly.) Separation and magnitude of companion are given, where available. I know of no other catalog of double stars so complete yet easy to search. For more information about this catalog, see

http://ad.usno.navy.mil/wds

.
Download PPM.ZIP Positions and Proper Motions Star Catalog in .RTG format ( 9.4 Meg download, 46.7 Meg unzipped. 468,861 entries).

Contains all SAO catalog objects, also has PPM numbers, & HD numbers, now cross-referenced with data in the Bright Star catalog. Every entry now has a constellation name. ( For information on the PPM, see

http://heasarc.gsfc.nasa.gov/W3Browse/star-catalog/ppm.html ).

Catalog is in reverse order, starting with north polar objects and moving southward. This also places the smaller SAO and PPM numbers at the start rather than the end.

Download Herschel2500.zip

Herschel 2500 Catalog for RTGUI.

(48kb download) 2010.
Download Herschel400.zip

400 Deep Sky Objects from Astronomical League

(9kb download) 2010.
Download gcvs.zip

General Catalog of Variable Stars,

38,624 entries.( 836k download, 4 meg unzipped) 2005.
Download Markarian.zip

Catalog of 1,470 Markarian Galaxies

(80k download, 339k unpacked) 2006.
Download gcpd.zip

General Catalog of Photometric Data

, 152,000 entries. (2.3 M download, 15.5 M unzipped). 2004 Now has constellation abbreviations.
Download alds.zip

Astronomical League Double Star Catalog

(3kb download, uploaded by rapideye.geo). 2004.
Download Bennett.rtg

The Bennett Catalog of southern sky objects or "A Southern Sky Messier catalog".

(16 kb) 2011. This contains all 152 objects and is based on the catalog described at http://www.astrosurf.com/antilhue/Bennett.htm
Download quasars.zip

Catalogue of 13,214 known quasars, updated for Search Wizard

(264kb download) 2010.
Download Sharpless_catalog.exe

Self extracting Sharpless catalog of star-forming regions

(48kb, uploaded by dsnay). 2008
Download VanDenBergh.exe Self-extracting van den Bergh catalog of 158 reflection nebulae (135kb, uploaded by dsnay). 2009.
Download RCW.zip RCW Catalog of southern Star Forming Regions (8kb) 2008.
---